This content is also available in:
Italiano
Português
Deutsch
Čeština
Română
Türkçe
Cytological screening has been so successful in preventing invasive cervical carcinoma that its importance as a health problem tends be overshadowed by the disadvantages and possible risks of screening itself.
In England, where screening coverage since the NHS Cervical Screening Programme was officially launched in 1988 has been high, CIN3 has most frequently been found and treated in women 25-29 years of age (Figure 5.3). This is also an age group in which reversible HPV infection is commonly found (Figure 5.4) making the distinction between LSIL, a predominantly reversible condition, and HSIL, which carries a risk of progression to invasive cancer, the main focus for cytology.
While symptomatic clinically evident cervical cancer is rare in women under 30 years of age, occult and microinvasive cancers may be found in women aged 25-29 years in well-screened populations (Castanon et al. 2013).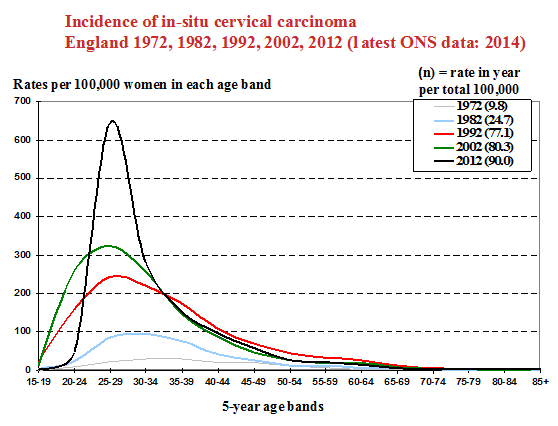 HSIL and LSIL in screened populations
In the well-established screening programme in England, CIN2-3 is most frequently found in women aged 25-29 years
Occult screen-detected cancer may also be found in women aged 25-29 years
LSIL and HPV infection are commonest in women below 30 years of age
Cytological distinction between HSIL and LSIL is the key to accurate screening
Avoiding over-diagnosis of reversible lesions
Wilson & Jungner (1968) recognised the potential problem of over-diagnosing 'borderline' lesions (Figure 5.2), which has proved to be a problem with cervical cancer screening. In most laboratories the number of LSIL combined with atypical or borderline cytology reports greatly exceeds that of HSIL. For example, in England (2013-14 data) 1.8% of adequate cytology reports were reported on average as mild dyskaryosis (equivalent to LSIL) or borderline (5.3%) compared with 1.3% high-grade dyskaryosis (equivalent to HSIL) or cancer (HSCIC 2014). Furthermore, rates of HPV-positivity in women with normal cytology in Europe as a whole are even higher (Figure 5.4, from Bruni et al. 2010).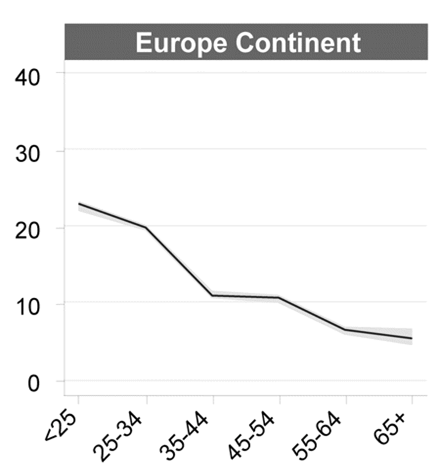 Potentially reversible low-grade and borderline lesions
Borderline, ASC-US and LSIL are more often reported than HSIL
HPV-positive rates in women with normal cytology are even higher than ASC-US in young women