This content is also available in:
Čeština
Ductal adenocarcinoma
It is the most common pancreatic tumor (85-90%). It usually occurs in elderly patients and most commonly involve the head of the pancreas. It has been associated with smoking and recurrent pancreatitis and its prognosis is poor.
Cytologic diagnostic features (moderately to poorly differentiated tumors)
Increased cellularity
Crowded sheets (with feathered edges)
Single malignant cells
Nuclear overlapping and disorientation
Irregular nuclear contours (notches, grooves, convolutions)
Nuclear enlargement and pleomorphism, prominent nucleoli
Irregular chromatin distribution (clumping and clearing)
Mitoses
Necrosis is a helpful feature, but is absent in half of the cases.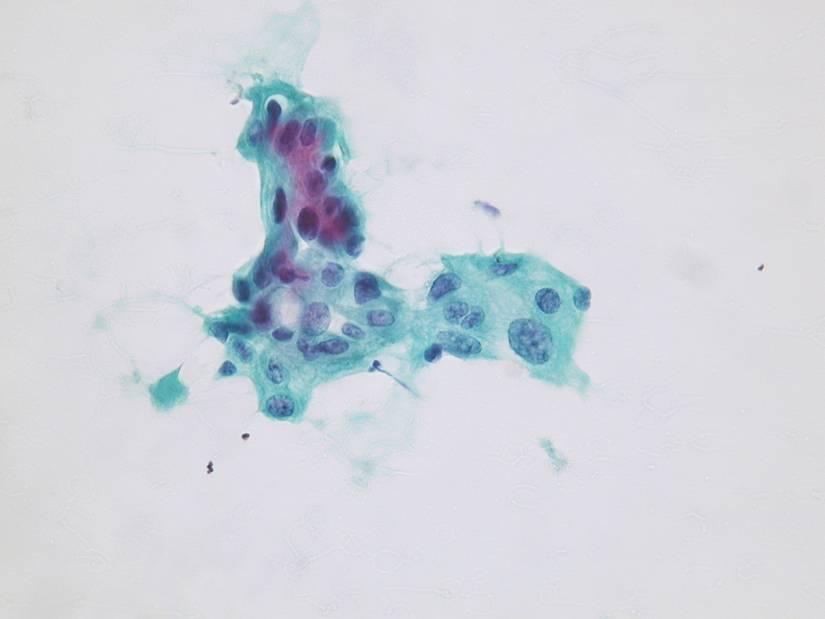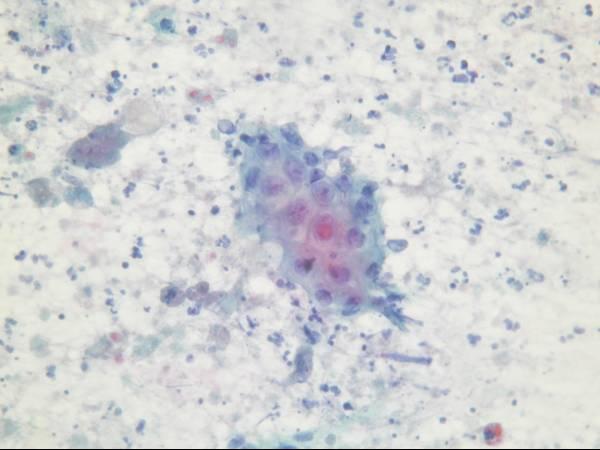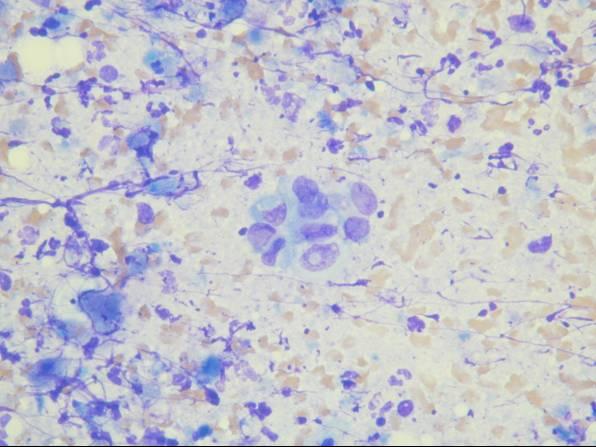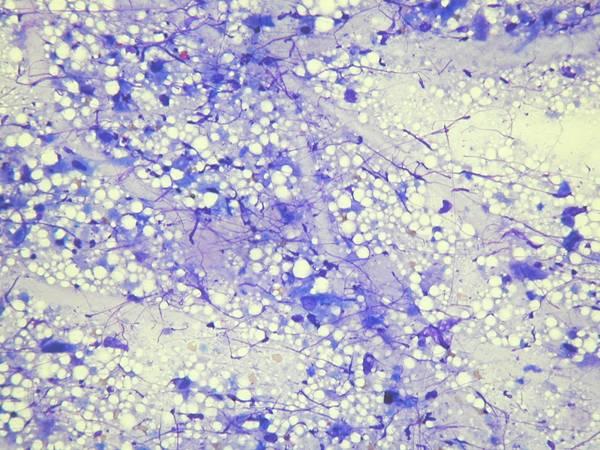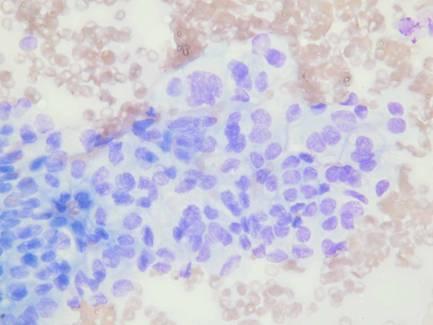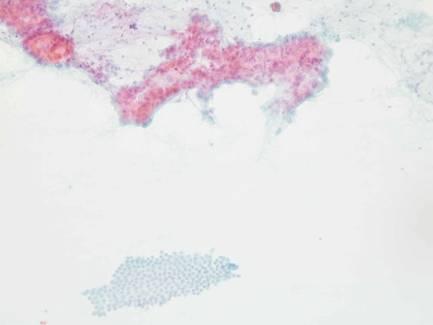 Cytologic diagnostic features (well-differentiated tumors)
Increased cellularity
Cohesive sheets (with rounded edges)
Nuclear crowding and overlapping
Increased intracytoplasmic mucin
Focally irregular nuclear contours (pyramidal and carrot-shaped nuclei)
Irregular chromatin clearing
Nuclear enlargement
The diagnosis can be difficult in well-differentiated ductal adenocarcinoma, as well as in the setting of chronic pancreatitis (showing reactive ductal atypia), stent placement or radiation. Some have suggested a minimum number of six atypical groups for a definitive diagnosis of well-differentiated adenocarcinoma.
Pitfalls
Liver cells
Intestinal cells
Mesothelial cells
Endothelial cells
Variants of ductal adenocarcinoma
Adenosquamous carcinoma
Undifferentiated (anaplastic) carcinoma
Mucinous non-cystic carcinoma
Signet ring cell carcinoma
Adenosquamous carcinoma is characterized by mucin-producing glandular elements and an admixed squamous component arranged in sheets. It may raise the suspicion of a metastasis.
FNA of undifferentiated carcinoma (anaplastic carcinoma, pleomorphic giant cell carcinoma) yields highly cellular smears composed of pleomorphic epithelioid and spindle cells and bizarre multinucleated tumor giant cells, which are poorly cohesive and arranged in a background of necrosis and inflammatory infiltrate. Foci of glandular differentiation are usually present but may not be sampled by FNA. The differential diagnosis includes metastatic carcinomas and pleomorphic sarcomas.
Undifferentiated carcinoma – cytologic diagnostic features
Bizarre, giant, multinucleated cells in loose sheets and single cells
High grade, anaplastic nuclear features
Cytophagocytosis
High mitotic rate and abundant necrosis
Rare osteoclast-type giant cells