This content is also available in:
Čeština
Pancreatic pseudocysts
Pancreatic pseudocysts occur in the setting of acute pancreatitis, resulting from autodigestion of the parenchyma. They account for the vast majority of pancreatic cystic lesions (75-90%). Pseudocysts can be rarely associated with trauma or pancreatic surgery.
By definition, a pseudocyst lacks an epithelial lining. It is an unilocular thick-walled lesion, composed of an inflammatory fibrous capsule surrounding a region of necrosis. A communication with a pancreatic duct may be present. FNA yields abundant dark brown, turbid fluid and smears are composed of granular necrotic debris, blood, neutrophils and macrophages (also hemosiderin-laden macrophages). Aspirates may also contain pancreatic cells, fibroblasts and mesothelial cells. The diagnosis of pseudocyst on cytology should be considered one of exclusion.
Cyst debris with blood, proteinaceous material and sometimes bile
Variable inflammation
No cyst lining epithelium (beware of contamination, mucin and epithelium)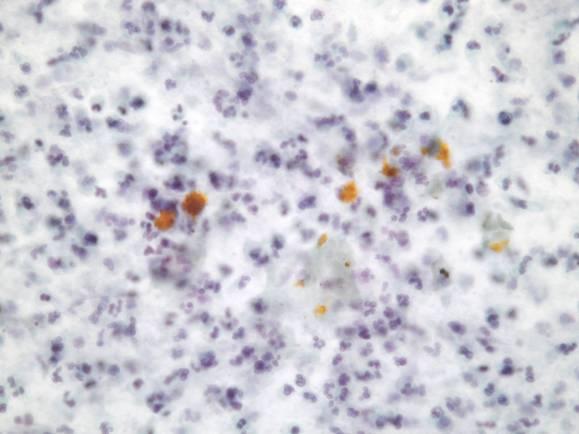 Other non-neoplastic cysts
Other non-neoplastic cysts include retention cysts, cysts secondary to infections and congenital cysts; they are very rare and the diagnosis requires correlation with clinical findings.