This content is also available in:
Italiano
Español
Čeština
Principles of the preparation of Liquid Based Cytology (LBC) slides

A sample of cells is collected from the cervix in the normal way using a spatula or broom sampling device
The sample is transferred into a container of preservative/ transport medium
The cell are dispersed in the fluid
An aliquot of the suspension is selected for processing
The cells are separated by centrifugation or filtration and deposited on a slide as a thin layer / monolayer by sedimentation or the application of pressure
The slides are stained , mounted ready for microscopy
There are several systems that are currently available. The most widely used are:
Sure Path (autocyte, TriPath Imaging)
Thin Prep (CYTYC)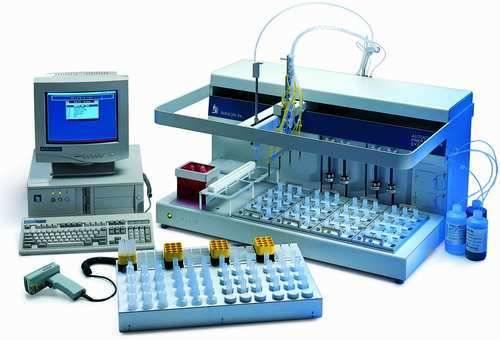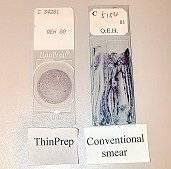 Key features of the Surepath and Thinprep systems
A cervical brush or broom is recommended for taking specimens for LBC .The device is rotated 5 times around the cervical os in a clockwise direction
The brush head is removed and placed into vial which contains fixative (SurePath) or is rinsed vigorously in transport medium in vial which contains fixative (Thin Prep)
The cells are separated from the suspension by centrifugation (Surepath) or filtration (Thin Prep)
The cells are deposited on the slide in an oval or circular area by sedimentation (Surepath) or controlled pressure (Thin Prep)
The area for microscopy is 13 mm diameter (Surepath) and 20mm diameter (ThinPrep)
Both Surepath and Thin Prep systems are automated
Comparison of collection and preparation of conventional smear with liquid based cytology slide:





Advantages of LBC
Immediate fixation with enhanced nuclear and cytoplasmic detail
All material collected is available for microscopic evaluation
A representative sample is prepared for cytological evaluation but multiple samples can be prepared as necessary
Clearer background so that epithelial cells of interest are less likely to be obscured
A thin layer of dispersed cells are spread over a fixed area so that the area to be screened is small and the preparation takes less time to screen than a conventional smear
Unsatisfactory rate decreased
LBC samples is suitable for other tests e.g. HPV testing
LBC slides are suitable for automated analysis
Disadvantages of LBC
Smear patterns altered because of randomization of cells
Abnormal cells are dispersed
Scanty LBC preparations can be difficult to screen and interpret
Blood mucous inflammation and malignant diathesis are still present but appear slightly different
Epithelial cells appear mostly as single cells and are slightly smaller than they appear in conventional smears especially endocervical cells and immature metaplastic cells.
LBC is more expensive than conventional test
Adequacy of LBC samples
In all published studies in the UK, the rate of inadequate smears is reduced by the introduction of LBC, although the results of international studies of inadequacy rates have been variable. This has been the most important factor in considering whether the UK should convert to LBC from conventional Pap smears. The important issue of concern that needs to be addressed is whether the reduction in the inadequate rate is safe. Are we converting inadequate smears to negative adequate ones or are we missing more abnormal smears by this rate reduction? It is clear that further work is required on the criteria for determining the adequacy of an LBC preparation. It is recognised that current adequacy criteria for conventional Pap smears are subject to variation between laboratories, resulting in poor standardisation of this diagnostic category
The Bethesda criteria for determination of adequacy of LBC Samples
Any specimen with abnormal cells is by definition satisfactory for evaluation
A minimum of 5,000 well-visualized/preserved squamous cells should be seen in the slide
A minimum of 10 fields should be counted usually at x40 objective along a diameter that includes the center of the preparation.
Slides with fewer than 5000 cells should be examined to determine the reason
The average cell number per microscopic field to achieve 5000 cells is shown in the following table. If there are hypocellular or empty areas on the preparation the percentage of the hypocellular areas should be estimated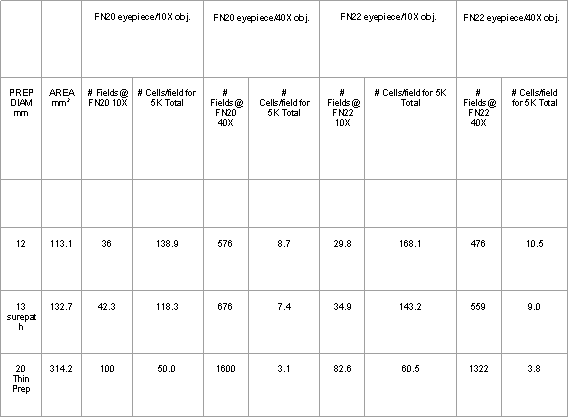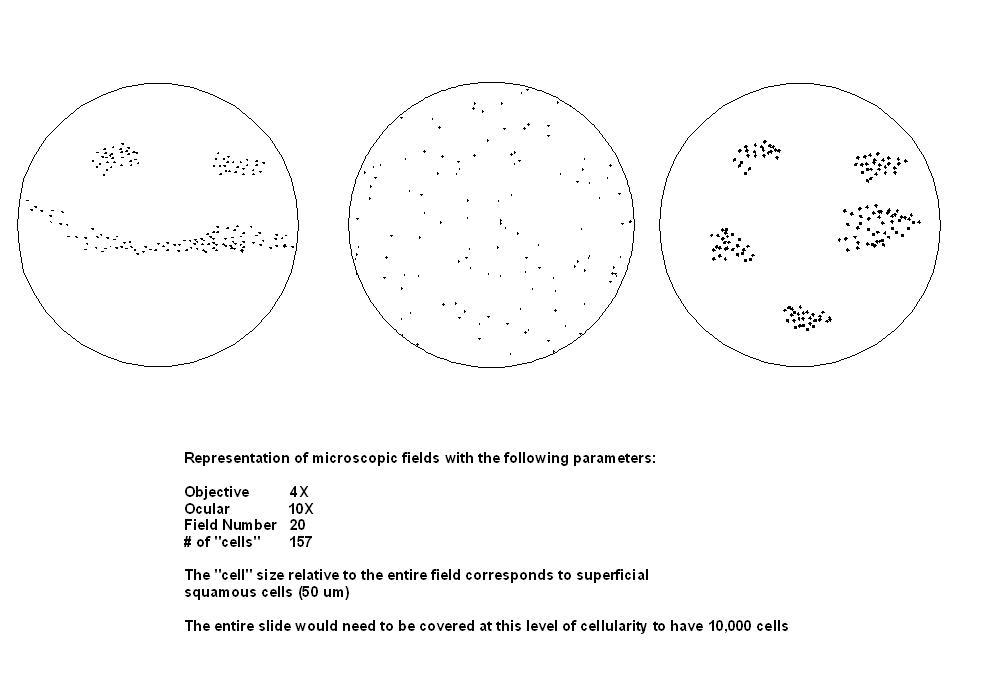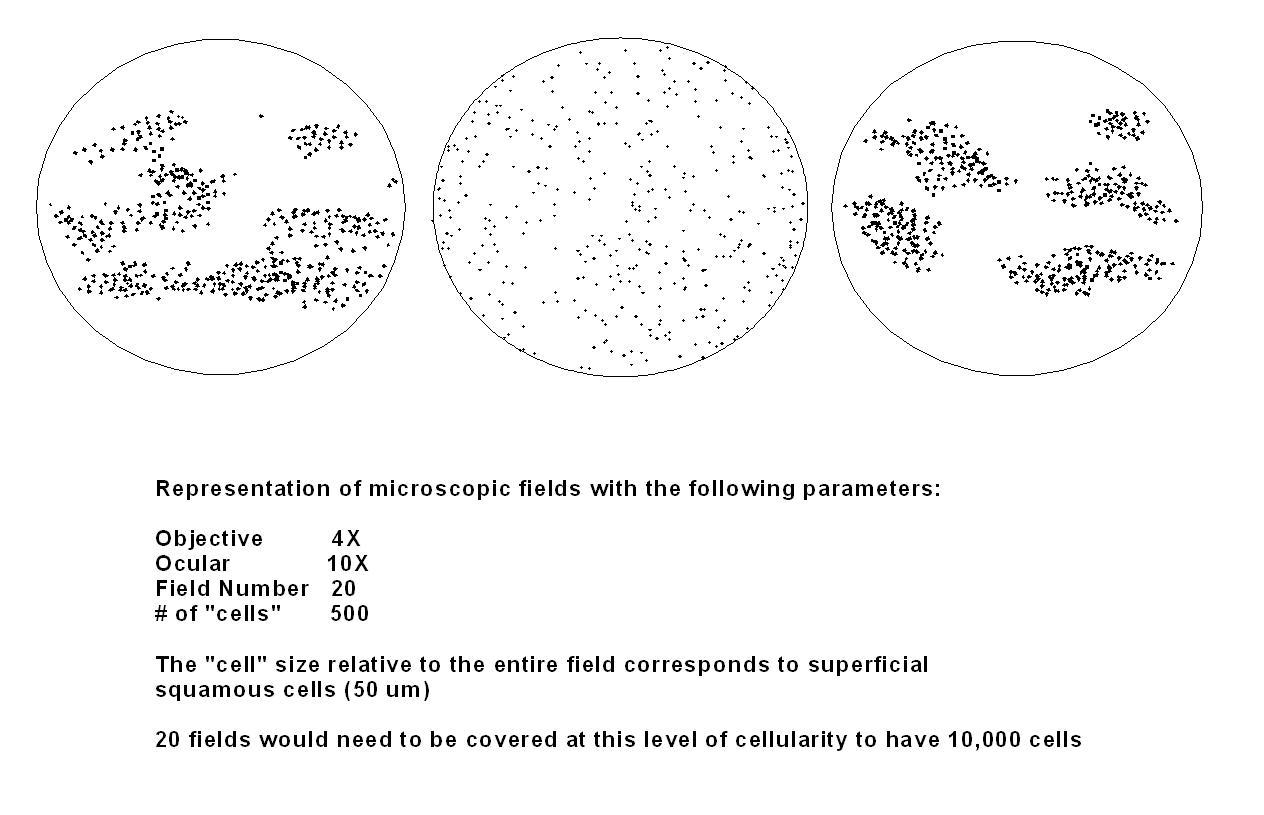 LBC modification of cell morphology
The main effects of LBC on the morphology of epithelial cells in the samples are :
Loss of relationships between cells and random spread of cells
Dispersal of abnormal cells
Scanty monolayers can be difficult to screen and interpret
These are illustrated in the following slides
General Smear Pattern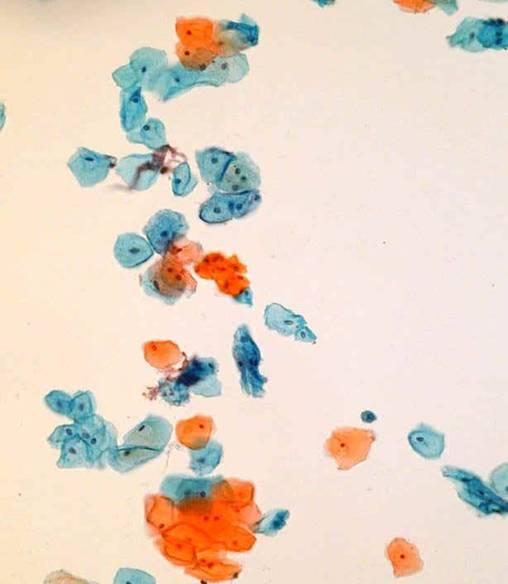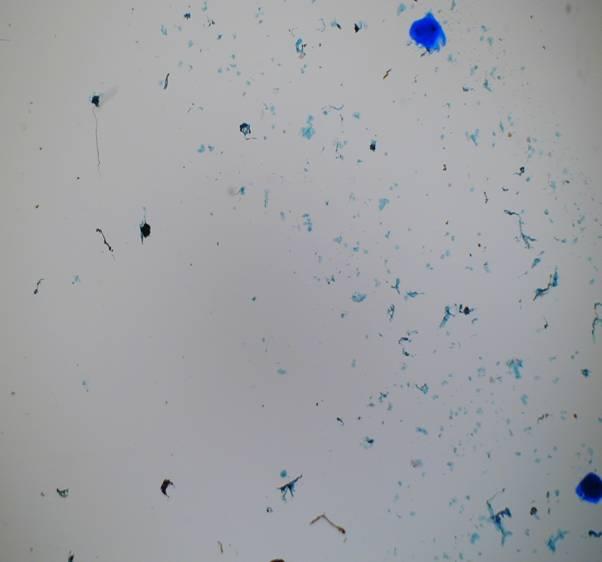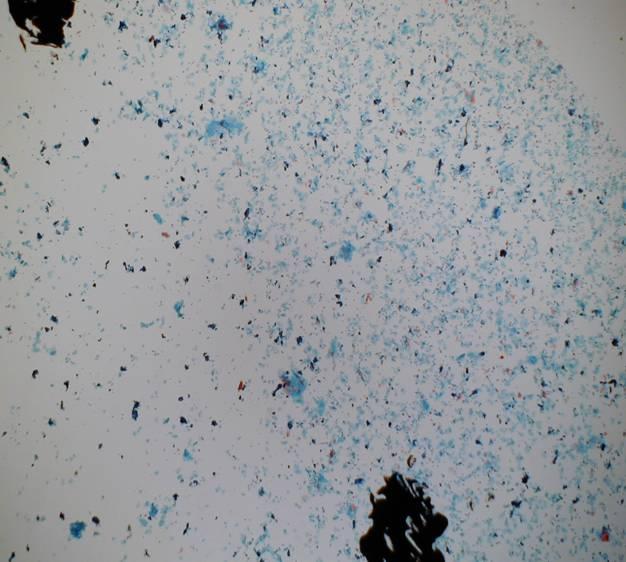 Squamous epithelial cells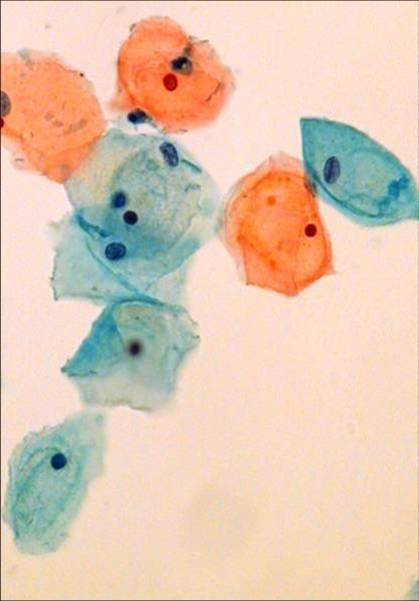 Endocervical cells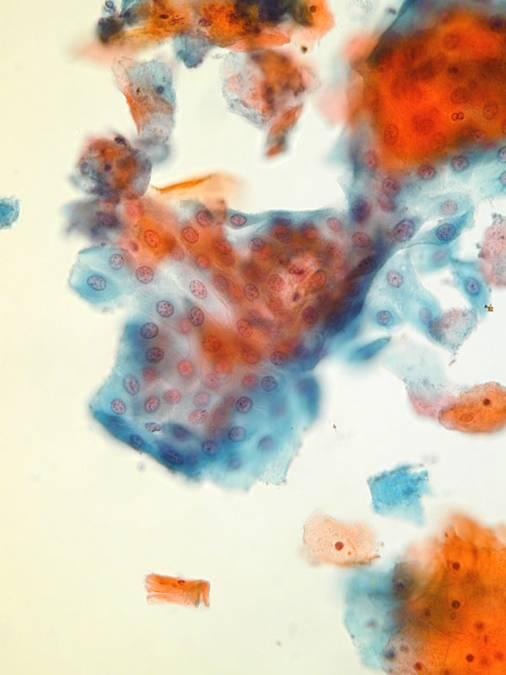 Immature metaplastic cells
Endometrial cells are often well preserved in LBC preparations unlike conventional smears where they often appear rather degenerated. They appear in three dimensional clusters or balls of cells but they also may be found singly. Nuclei are round or oval, small, even & hyperchromatic. As the blood is lysed in LBC specimens only ghost red cells are seen in menstrual samples. Histiocytes and debris may be seen.
Blood is lysed therefore only ghost red blood cells may be seen in menstrual samples
Cells are in transparent, 3D clusters
Granular chromatin and membrane convolutions better appreciated
Pregnancy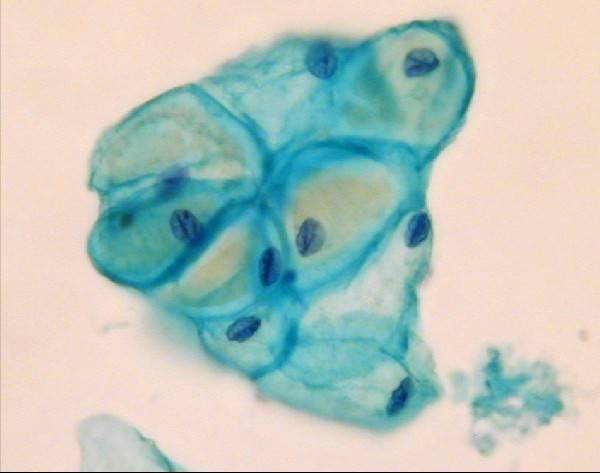 LBC image library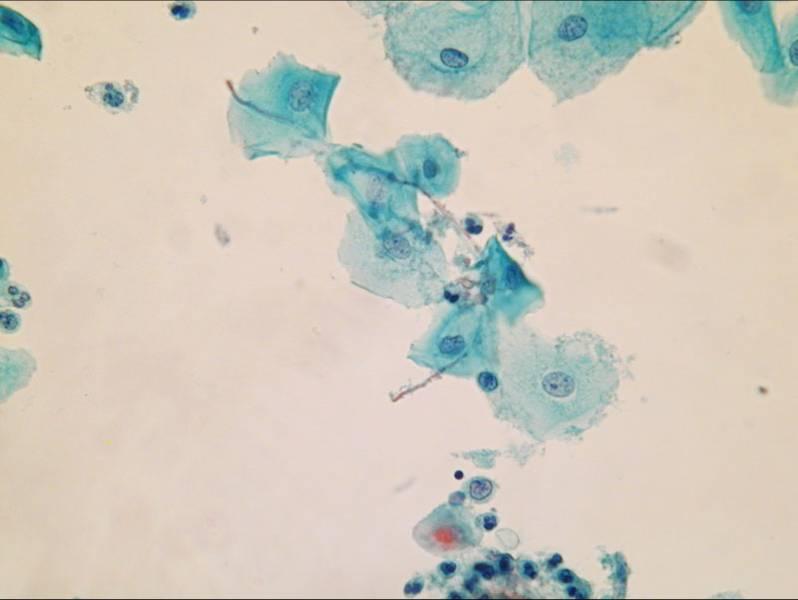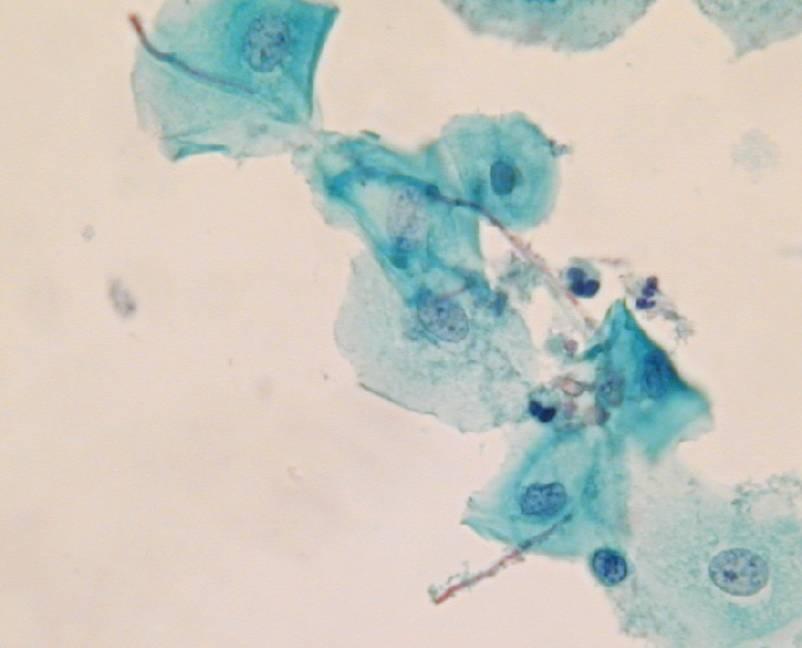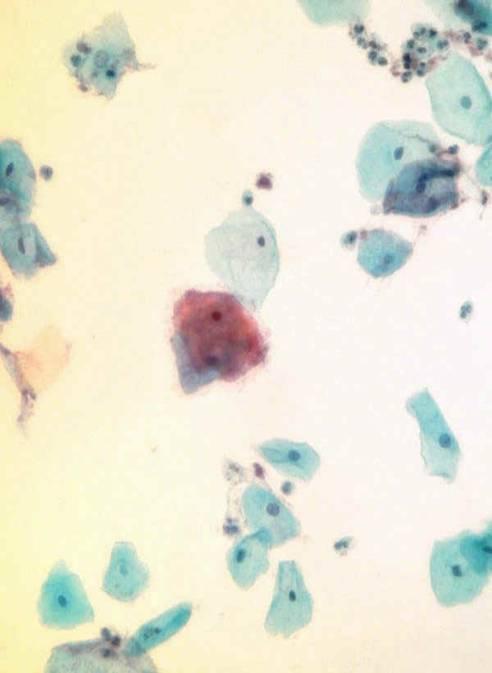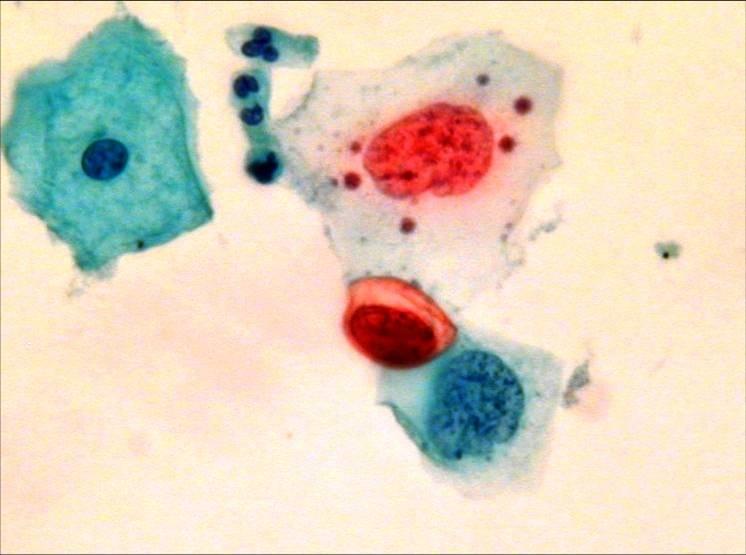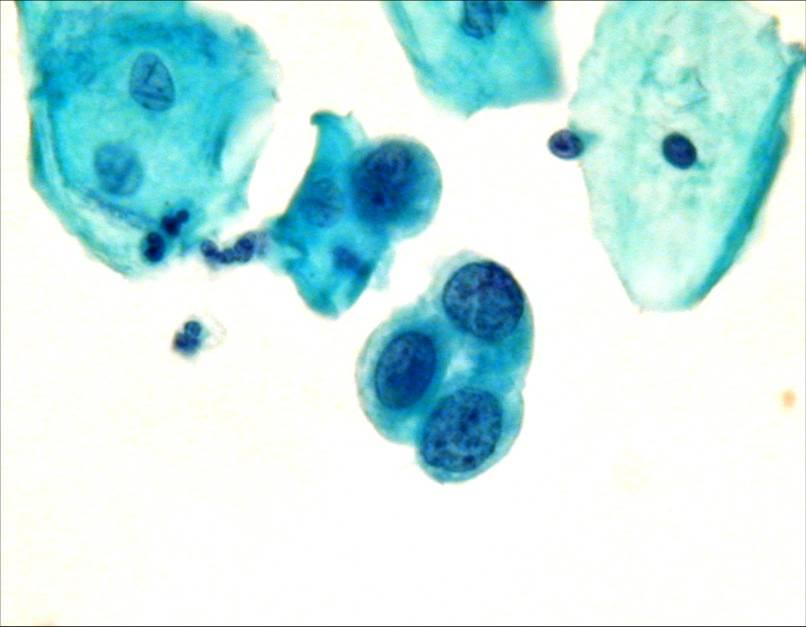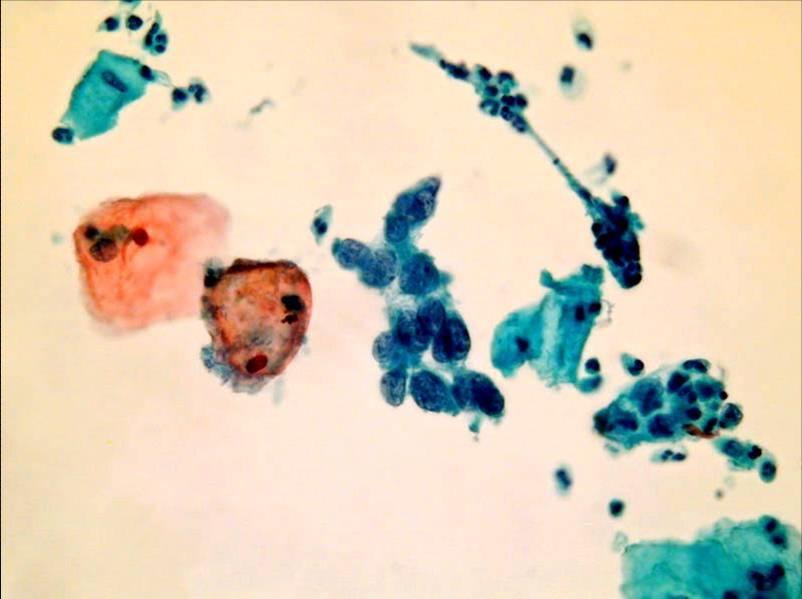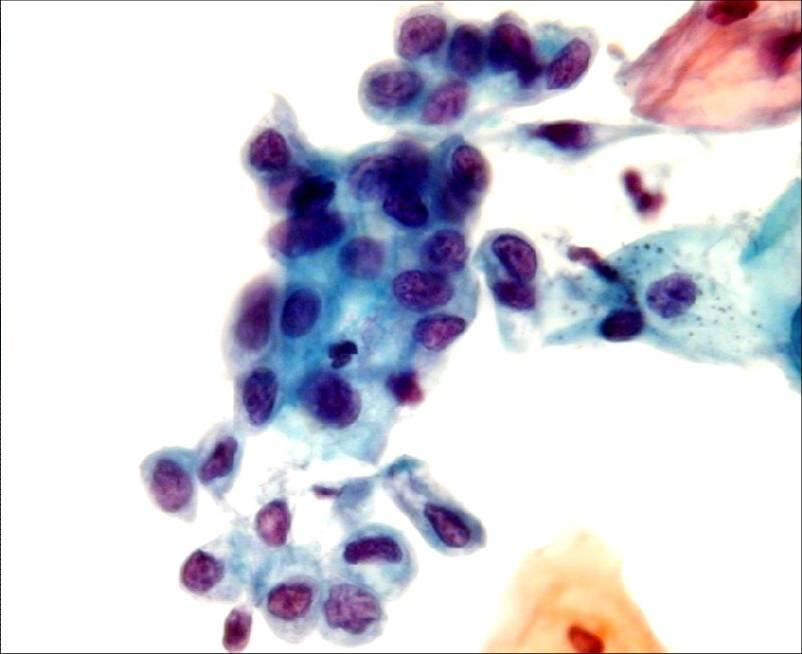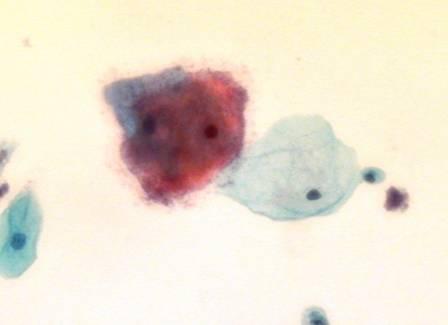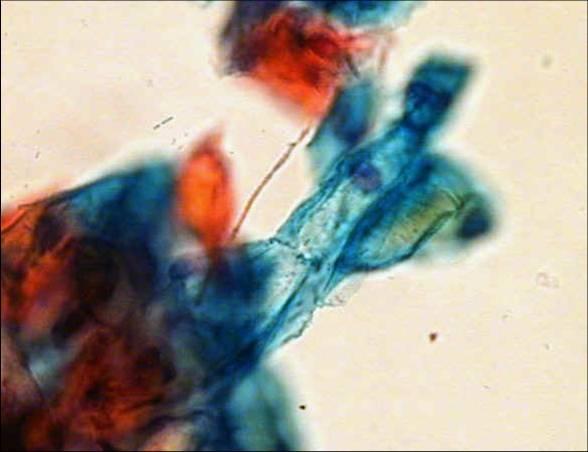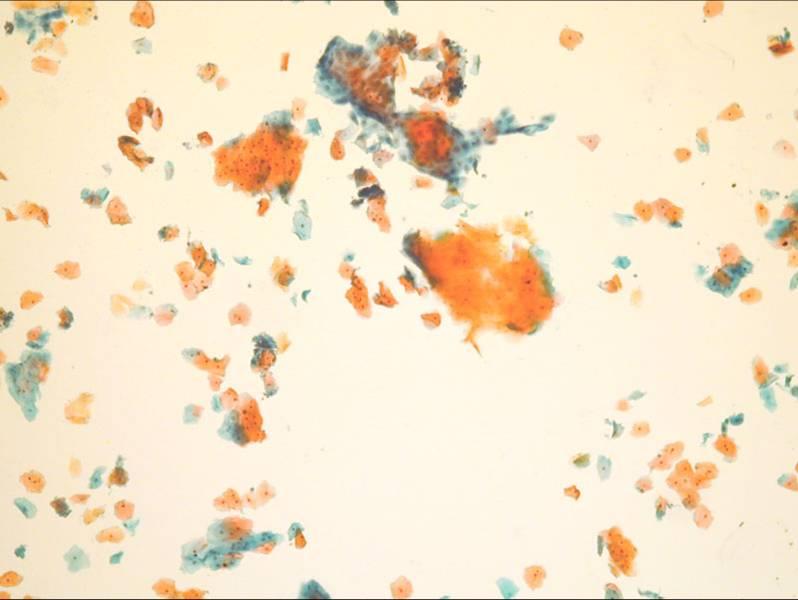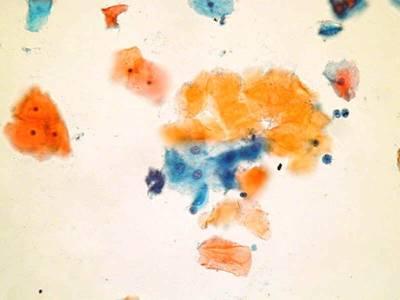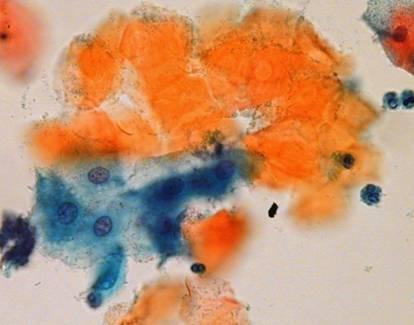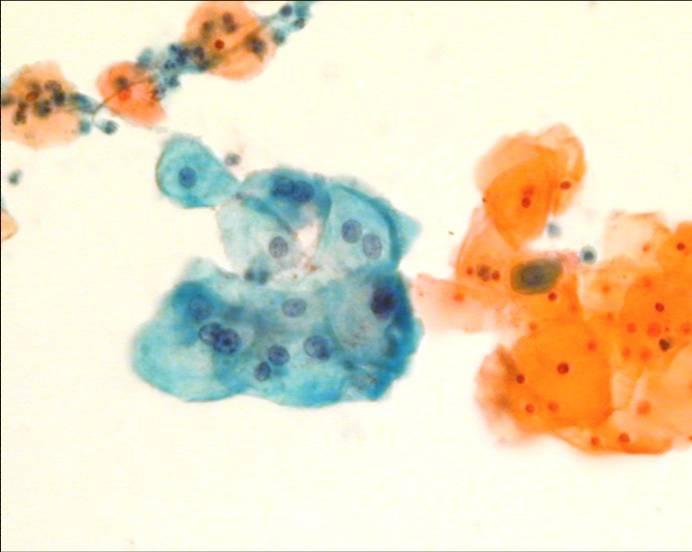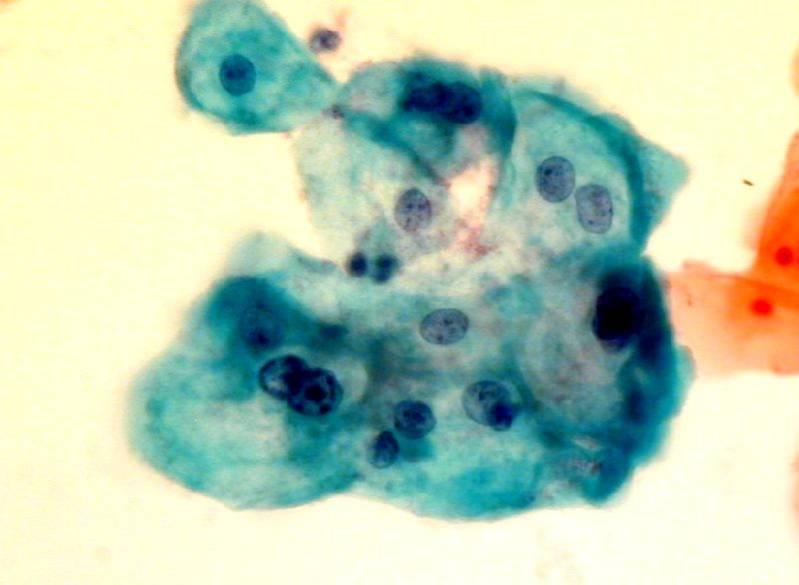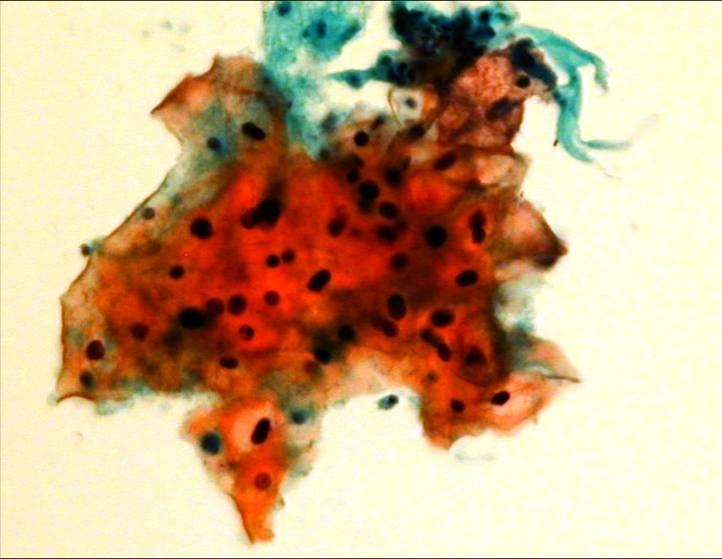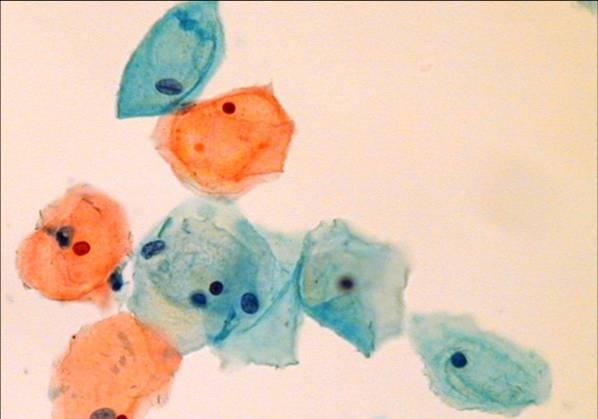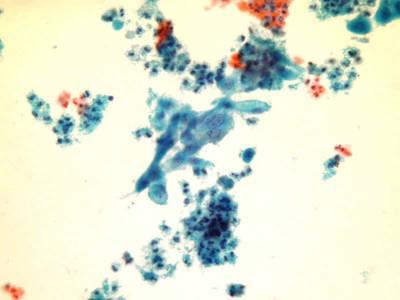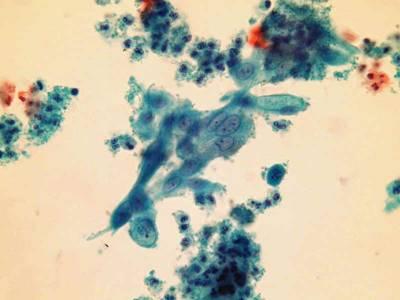 Evaluation of LBC in England –Pilot studies
In June 2000, the National Institute for Clinical Excellence(NICE) produced guidance on the use of liquid-based cytology (LBC) in cervical screening.
It stated that LBC could provide significant and important benefits but the quality of the evidence was variable and areas of uncertainty remained.
A programme of pilot implementation projects of LBC was proposed, with full review of results at each stage.
These projects were intended to evaluate all the effects, costs and practical implications of introducing LBC into the cervical screening programme.
The manufacturers of two systems, ThinPrep® (Cytyc® Corporation, Marlborough, MA, USA) and SurePath ™ (Tripath Imaging® Inc., Burlington, NC, USA) applied for their systems to be piloted and three sites were used, two using ThinPrep® and one using SurePath™.
The pilots ran in 2001-2 and 250,000 samples were examined (and about 12500 HPV tests performed). The results were compared with those from the preceding period using conventional cytology.
The effects on laboratory costs including equipment, consumables and staff productivity were included, as well as evaluation of the cost effectiveness of HPV triage and the psychological effects on women of inadequate smear test results and positive HPV tests.
Results of Pilot study of LBC in England ctd
The introduction of LBC resulted in a clear reduction in the reported rate of inadequate smears (from 9% to 1 – 2%). The rate of inadequate smears in the pilot was lower in the site using SurePath™ than in those using ThinPrep™.
There was no clear evidence of any impact of LBC on the detection rates of borderline smears or of mild dyskaryosis, or of an overall impact, across all sites, on rates of moderate and severe dyskaryosis.
There was some evidence of a 'learning curve' effect, with higher rates of borderline smears and of those showing mild or moderate dyskaryosis during the first two months of the pilots.
There was a reduction in the rate of smears reported as showing glandular neoplasia.
It is not possible to estimate sensitivity directly from the pilot studies, since to do so would require knowledge of false negative screening results. However results on rates of moderate and severe dyskaryosis and provisional results on positive predictive value suggest that, for the sites combined, sensitivity is no lower with LBC than conventional cytology.
The productivity of laboratories increased with LBC because more slides can be primary screened per hour; the number of formal breaks remained unchanged.
The reduction in the inadequate rate with LBC will reduce the overall costs of screening as fewer smears have to be taken, prepared and read. For example, with a reduction in the inadequate rate from 9% to 1.6%, a laboratory previously processing 30,000 slides a year would have a reduction in workload of 2,220 slides per annum. Nationally, the workload would be reduced from 4.2 million slides per annum to 3.9 million slides per annum.
LBC evaluation in from other countries
National cervical screening programmes are complex and multidisciplinary. Different countries have different screening intervals and screening strategies. Thus the effects of introducing LBC will be different. Australia,12 New Zealand,3 Germany,11 France7 and the Netherlands20 and Scotland8 have recently evaluated LBC and have come to different conclusions.
Scotland is implementing LBC
Australia and New Zealand have decided not to support LBC with public funding at this time.
The German Society for Cytology has also recommended further studies, and the French report is not yet published.
Because smear patterns are altered in LBC preparations training in the interpretation of LBC smears is essential before undertaking screening of these samples.
Currently commercial companies are offering a three day course of training
The aim of the program is to train the trainers
Participating cytologists are expected to return to their own laboratory to teach the entire laboratory staff
The aim is for cytotechnologists to achieve 95% sensitivity for HSIL before undertaking routine screening of LBC slides.
Changes in working practice (Evaluation of LBC England ctd)
Sample preparation using LBC is based on machines that prepare between 25 000 and 80 000 samples per annum. Proposed models for pathology modernisation based on managed networks would fit well with machines of this size, allowing centralised processing of samples with reading and reporting smears continuing in hospitals where screening staff are currently based.
FDA approved automated screening is currently available for conventional Pap smears13 and if applied to UK practice could significantly reduce laboratory workloads and backlogs.
LBC and HPV screening
The introduction of triage based on HPV results led to a 72% reduction in the rate of repeat smears but more than doubled the rate of referrals to colposcopy in these women, compared with current policy.
Given the lack of conclusive evidence on sensitivity of HPV DNA analysis from the UK and the impact on colposcopy referral observed in the pilot studies, caution is recommended for implementing HPV testing to triage women at this time despite very promising cost effectiveness results.
Conclusions
The evidence to date, suggests that the main reasons for introducing LBC are improved productivity within the screening programme, both by reducing the inadequate rate and increasing laboratory productivity and the future potential for automation and ancillary testing (although the latter are not dependent on its use).
The College has concerns that relate to the available evidence on sensitivity and specimen adequacy (which will affect productivity).
It must be noted that LBC has not been tested in any longitudinal studies in countries with a three to five year screening programme.
It is essential that LBC is not oversold as being more sensitive than current screening.
The major challenges of training must be properly resourced. The maintenance of expertise in conventional Pap smears will be required